Phillips Brothers are delighted to announce that we were crowned the winners of the Family Business Of The Year 2015 for East Anglia
The Family Business of the Year Awards were created to celebrate the UK family business sector, to recognise the diversity of family firms across the country and to celebrate the contribution that they make.
These awards seek to showcase the best of British family firms, with the winners being chosen, irrespective of their size, that use their family nature and values to build successful businesses and represent great ambassadors for the sector.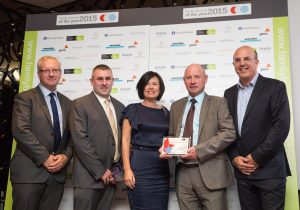 Phillps Brothers Family were represened on the evening by Paul, Jane and Ian
Jane Knapp of Phillips Brothers was delighted and honoured to win.
"Thank you to you James & Birketts for choosing Phillips Brothers as The Family Business of the Year in East Anglia. We are immensley proud to receive this award & the recognition it brings to our ethos of being an asset in our local community.
On behalf of myself, Paul and Ian, I would also like to give a big thank you to Paul Andrews, for a very enjoyable and informative evening at the prestigious May Fair Hotel in London."
Paul Andrews, Founder and Managing Director of FBU and chairman of the judging panel added:
"Phillips Brothers is an amazing family firm that has passed through to include the fifth generation and was founded way back in 1894.
Clear family values are at the heart of all this business is about and it has a clear inclusive culture with staff being encouraged to participate openly.
Governance of the family firm is all about shaping the family firm for the future, and building a successful business for generations to come.
The family have clearly demonstrated that this is a successful family business, owned by a family that are part of the fabric of the community in which they operate.
Phillips Brothers are worthy winners of the title and will undoubtedly serve as great advocates for family businesses too."
Award sponsors Birketts LLP
"Having reviewed a number of excellent submissions from family businesses based in East Anglia choosing a winner was quite a challenge.
What stood out about Philips Brothers was how their family values influenced all aspects of the business.
In particular, their desire to create jobs for local people and bring on young talent is commendable."
James Austin, Partner
Once again, thank you to the organisers of the FBOTY, we fully enjoyed the judging process and the awards evening and we look forward to participating again in 2016